Local Events
Upcoming Events
Join us for upcoming CPR/First Aid Classes, hosted by MCFB: Click Here
Past Events
April 6, 2016 – Marion County Farm Bureau Ag Tour – MCFB Ag Tour April 6, 2016
April 2016 – Marion County Farm Bureau CPR Classes – MCFB – CPR Classes Flyer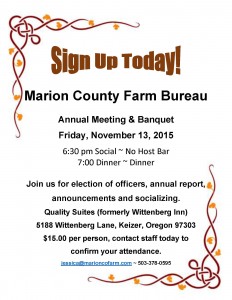 Free Family Farm Succession Program
Event Details: Click Here
Marion County Farm Bureau Annual Dinner
Keizer Quality Suites
Thursday November 13, 2014
SPCC Plan Seminar ~ March 25, 2014
Two seminar were held Tuesday March 25, 2014, at Brooks Regional Training Facility, 4910 Brooklake Rd. NE, Brooks, Oregon 97305.
Marion County Farm Bureau – Farm Tour ~ April 4, 2014
Marion County Farm Bureau hosted a farm and port tour on Friday April 4, 2014. The tour included a visit to: Chapin Farms new Hazelnut Drying facility and a display of micro propagation of rootstock, Crosby Hop Farms pelletizing, storage and marketing of Hops, Northwest Onions packing plant, Golden Valley Hay Press, The Food Innovation Center and the Port of Portland.
Planning for the Four Seasons…Farm Legacy
Sponsored by: Oregon Farm Bureau Women's Advisory Council
November 03 & 04, 2013
Young Farmer & Rancher Ag Industry Tour
Nov. 8-10, 2013
Marion County Farm Bureau Annual Dinner
Red Lion Hotel Salem, 3301 Market St NE
Tuesday Nov. 12, 2013
BYLAWS (2013 Annual Meeting Version-Redlined)
The Marion County Farm Bureau held a complimentary energy symposium at the Oregon Farm Bureau Convention in Salem Oregon this year. Approximately 80 Oregon Farmers and Ranchers attended the event to hear from an experienced panelist about Wind, Hydro, Methane and Solar power. A huge thank you to our partners that allowed the event to take place.